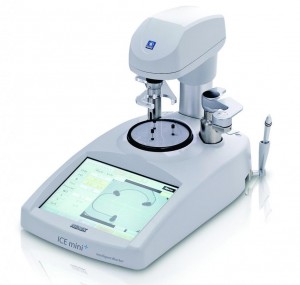 Eye Care Professionals looking for quality and value will find the ICE mini+ an outstanding choice.
Oscillating Lens Stage
The ICE mini+ features a 3-pin oscillating lens stage with lens retaining clamp, which allows the operator to perfectly block the lens without any chance of lens movement, even with the most difficult slab-off lenses.
Data Storage
The traced data obtained with the edger's built-in tracer are automatically stored into the unit's internal memory.
Optimal Viewing
The unit's camera position allows for bifocal segment viewing. In addition, the ICE mini+ features a light diffuser for better viewing of a bifocal segment and lens edge for determining cut-out.
The ICE mini+ boasts a large 8.4" LCD, color, touch screen facilitating easy operation. Light intensity is compensated automatically, or manually adjusted right on the touch screen, for better viewing of polarized or dark tinted lenses.
Dimensions: 9.0" W x 14.5" D x 15.4" H

Weight: 13.2 lbs.

Power Supply: AC115V, 50/60 Hz

Power Consumption: 50 VA