Xtrimer SE-1 Dry Cut System Edger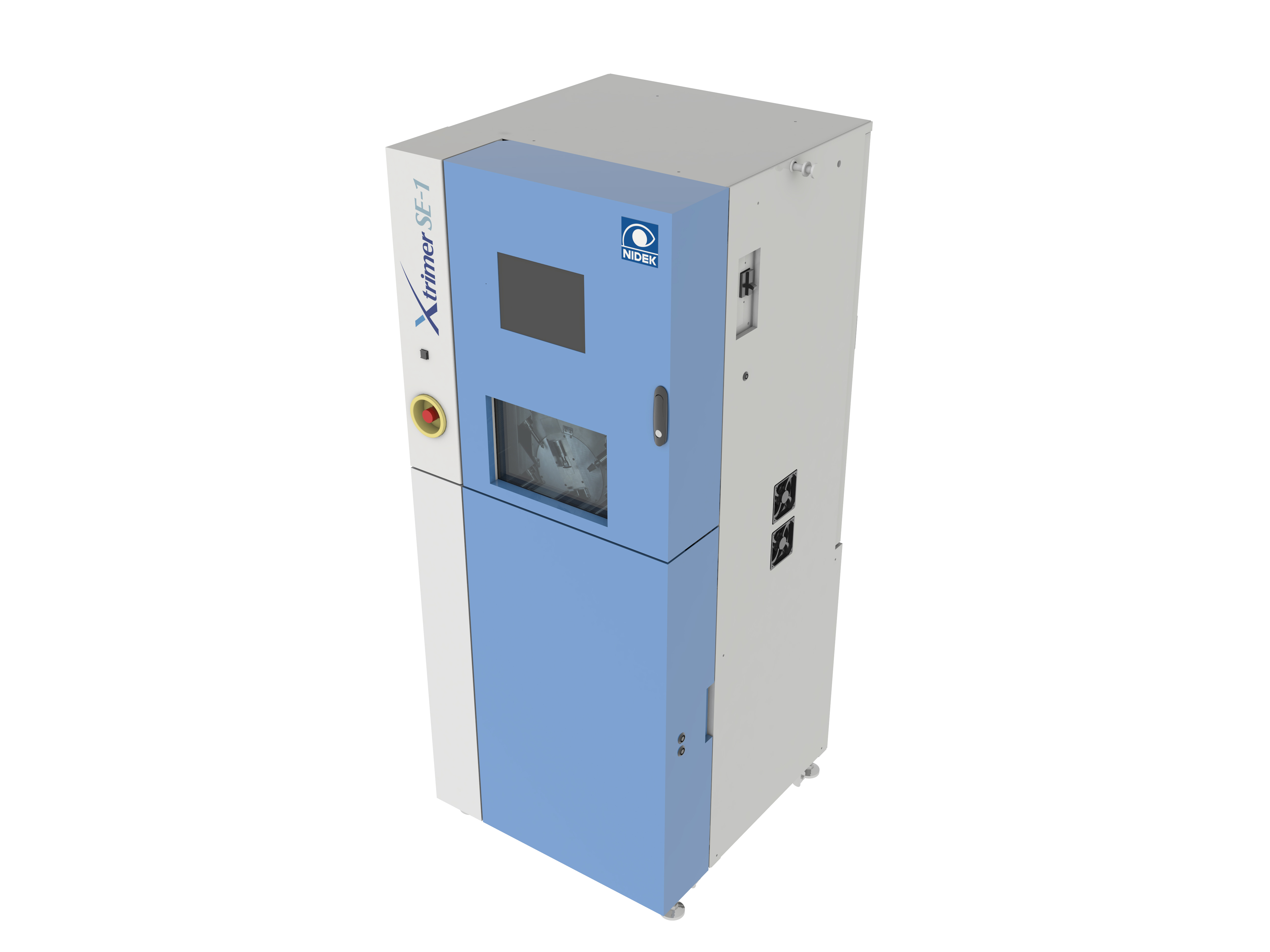 Introducing the revolutionary new Xtrimer SE-1 Dry Cut System Edger. The unit's highly efficient design will provide labs with astonishing speed, 3-D fit and multi-shape capability, setting a new industry benchmark for top-quality, high-volume lens processing and ease-of-use.
Fixed Tool "V-Layout"
The SE-1's unique, efficient "V" design allows for faster lens-to-tool approach, thereby increasing productivity in an extremely compact footprint. Additionally, this design enables easy tool maintenance.
Independent, Free-Standing Tool Design
With a mechanical interlocking design, the SE-1 incorporates six independent tool spindles, increasing processing speed and eliminating use of a "tool changer".
Astonishing Speed with Uncompromised Quality
Maximized lens and tool rotational speed accelerates cutting time, while maintaining high quality.
Feature-Rich
The SE-1 provides all the features your lab needs including beve­lling, customized incline beveling, flat edging, 3-D grooving and partial grooving, polishing, safety beveling, faceting, partial step beveling, 3-D drilling and Design Cut.
5-Axis Design
The unit's 5-Axis design allows for an array of lens finishes and provides lens design flexibility. Furthermore, it vastly increases one-cut "lens-to-frame fit".
User-Friendly Operation
The high resolution graphics, along with intuitive touch screen design, make the SE-1 extremely easy to operate. The unit's design also facilitates tool maintenance.
Highest Customization of Tiltable Bevel
The highly customizable, high curve tiltable beveling function provides an optimal fit for all sports frames, especially when paired with tracing data from our new high-curve XtremeD LT-980 and LT-1200 tracers.
Space-Saving Design
An astonishing amount of features are built into the SE-1, making it one of the most compact, yet most powerful units available on the market. This streamlined design allows for easy integration into any lab environment.
Simplified Job Editing & Shape Creating
The iRx Server allows for individual job to edger direction (in multiple edger connectivity), as well as, (shape, bevel, etc…) editing of jobs on the fly without stopping edger production to make individual contour and angle changes to a lens shape. Full 360 visual simulation of shape and job edits to be processed by the iRx Editor in the SE-1 edger are shown on-screen prior to being permanently stored in the iRx software. Seamless software upgrading and improved diagnostics are inherent to the iRx server/editor software combination.
Easy Robotic Integration
The SE-1 is engineered to seamlessly integrate with existing ADS-1000 or ADS-2200 robotic units, increasing lab capability and productivity.
Nidek Intelligent Conveyor System (NCIS)
Incorporating a combination of conveyor belt and stacker systems, the unique robotic configuration handles job tray "traffic" in a high­ly efficient method. Multiple systems can be integrated in series or parallel tandem configurations, providing the highest volume throughput with the smallest footprint. The possibilities are infinite…
Dimensions: 27.6" W x 29.5" D x 68.9" H

Weight: 1,102.3 lbs.

Power Supply: AC 200 to 240 V 50/60 Hz

Power Consumption: 2 kVA