Our Company Culture: What it's like to work here
One of the best things about Santinelli International is our culture. In one way or another, the concepts of integrity and honesty are part of that culture. Our core values are reflected in everything we do and every interaction we have. Our values are always the framework from which we make all of our decisions.

True, our values have played a huge role in making us an award-winning company with award-winning products. But what really connects us is the fun we have together! Click here to view some employee testimonials.
Breaking Bread Together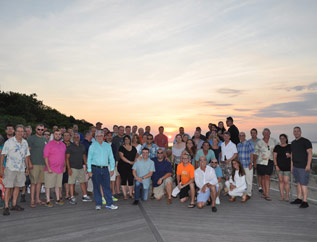 From our festive Holiday Celebration to our casual summer BBQ, we never go hungry! Omelet Day has become a spring-time tradition, with chefs Rick Clemente (Executive VP of Sales & Service) and Matt Mc Kenna (VP Client Services) cooking up "made-to-order" omelets on our outdoor grill! Our President's Luncheons are also a favorite, as are our unique and fun monthly "spirit days". Each month birthdays are celebrated and milestones are shared – of course, there's cake for everyone! Bravo! Everyone cheers when the Star of the Month honors, MVP of the Quarter and MVP of the Year awards are presented. We also recognize those "dazzling" individuals with our highly-prestigious, annual President's Club Award. We all know that hard work has its benefits!
Halloween Costume & Decorating Contest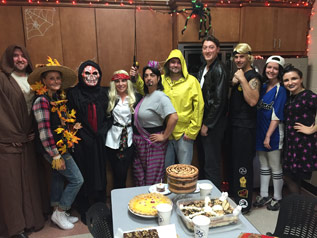 It's so competitive, it's scary! But President & CEO, Gerard Santinelli has a spook-tacular time judging the incredibly creative entries!
Habitat for Humanity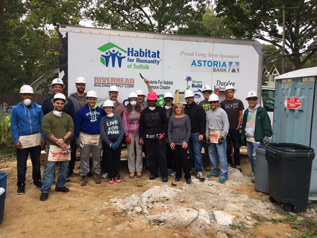 Santinelli International associates and families feel passionate about "giving back" to the community, having participated in Habitat for Humanity home builds for six consecutive years. Habitat for Humanity has become a heartwarming tradition and we take pride in participating in this year after year.
Friendly Competition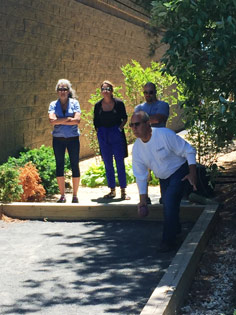 Our President and CEO Gerard, gets serious when it comes to a game of Bocce! Bocce ball has become a "fan favorite" in our office, having multiple tournaments throughout the year on our outdoor bocce court!