Ice 900 Advanced CAD Blocker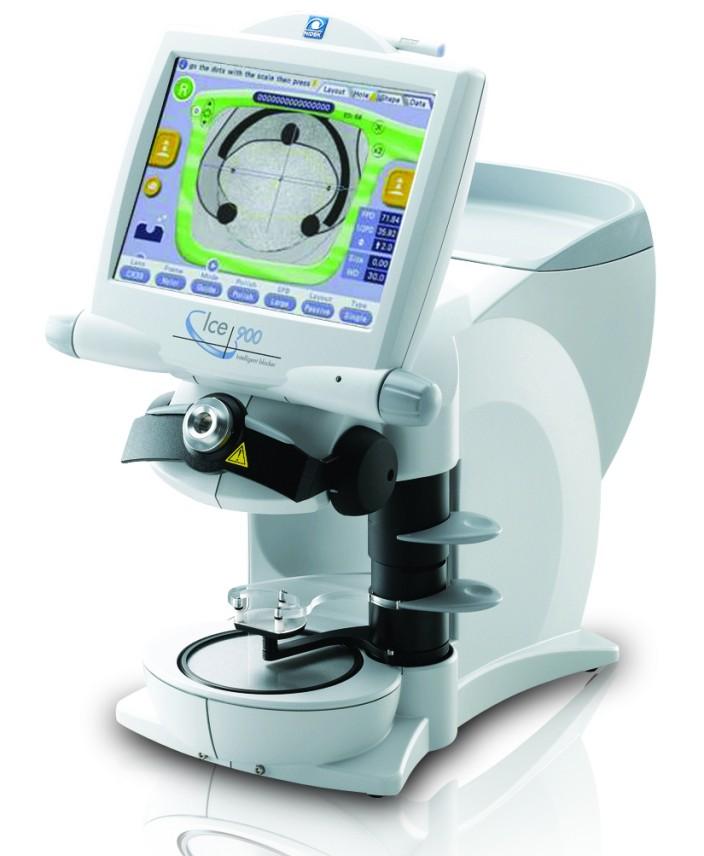 The Ice 900 Advanced CAD Blocker is a highly advanced automatic lens blocker. The Ice 900's speed and unique features make it an ideal blocker for both the retail and wholesale lab environment alike.
Integrated Shape Imager (ISI)
The ISI function detects any demo lens or pattern, including those for rimless drill mounts, and identifies hole position. Moreover, the ISI function automatically detects and adjusts for horizontal axis. The operation is supported by a "Wizard Tutorial" directly viewed on the screen of the unit, featuring computer generated renditions.
New Graphic Design
"Smart screen" design provides the operator with an information bar and on-screen tutorial for ease of use. In addition, layout and grinding conditions are easily entered on the color-coded 8.4" SVGA touch screen display.
Advanced Shape Editor Function
This function allows the operator to freely design lens shapes with the use of a stylus pen, while still viewing the original lens shape. The background displays a rendition of a human face (parietal eye and nose) in three varying forms: woman, man and child. Therefore, the operator can edit the shape of the lens while viewing it in relation to the face of a "virtual patient".
Twin Jog Dials
In addition to the intuitive operation of the touch screen, data can also be entered by the use of the twin "quick jog" dials. The right jog dial moves the cursor for layout and grinding condition selection, while the left jog dial is used to enter numerical values/changes.
Motor Drive Blocking
The all new motorized lens blocking process takes only two seconds, greatly increasing productivity. Since excessive blocking pressure can cause lens coating deterioration, the Ice 900 applies the appropriate blocking pressure, preventing this breakdown from occurring. In addition, the block adapter is ideally positioned for easy and comfortable block loading.
Tiltable Display
A unique Tilt Display allows the LCD operation screen to be viewed from 27° to 60° from vertical, making it ergonomically friendly whether sitting or standing. The lowest angle position (27°) matches that of our Lex 1000 and Le 1000 lens edgers.
Dimensions: 20.7" W x 19.5" D x 13.9" H

Weight: 17.6 lbs.

Power Supply: AC 115V, 50/60 Hz

Power Consumption: 50 VA max.