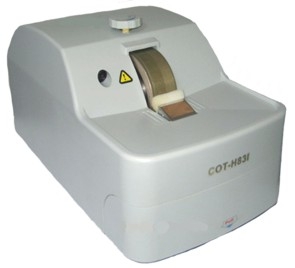 This Hand Edger is equipped with a special sensor that detects the operator's proximity, triggering the diamond wheel to automatically start rotating. Conversely, the diamond wheel is idle when no movement is detected. This unique design ultimately saves energy and extends the life of the product.
The diamond wheel is a dual grit with an H.A.B. profile for bevel touch-up / handwork.
The unit has self-contained water re-circulating system, which keeps the water clean through a filter and avoids the risk of water pump blockage.
Depending on the amount of water needed, water can be delivered to the diamond wheel by utilizing the water valve. The built-in sponge eliminates any water overspray and the water tray can be easily removed for periodic maintenance.
Dimensions: 8.5" W x 14.25" D x 9" H

Weight: 20 lbs.

Power Supply: AC 100-120V/60Hz<

Motor: 150W

Pump: 3W