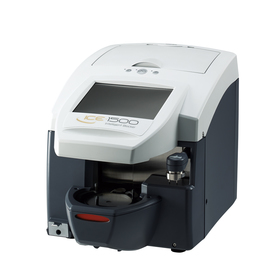 Our ICE-1500 Blocker features intuitive technology, which can easily handle today's lens and frame challenges with great accuracy.
Wrap Frame Tracing
At the heart of our new ICE-1500 Blocker is an advanced high-curve tracer, featuring a unique mechanical design which includes a variable fulcrum stylus, keeping its axis-angle perpendicular to any frame curve. The new tracer reduces stylus-pressure by fifty percent, thereby eliminating the potential for distortion on even the thinnest, most flexible of frames.
Tying it all Together
The blocker's software has the ability to read QR codes which contain EMR data from linked diagnostic equipment, eliminating the need for redundant job data entry and thereby streamlining the entire blocking operation.
More State-of-the-Art Features
Incorporates a multi-colored touchscreen with new, intuitive graphics for a seamless operation. The unit also features an advantageous Auto Lens Meter (ALM) function with an easy-to-identify cross-hair target for spot-on accuracy. Santinelli's Integrated Shape Imager (ISI) facilitates drill data capture and has been revised to include partial step lens measurements of "suspension-lens" style sport frames.
The newly redesigned lens stage is highly adjustable accommodating any lens blank size, shape or type, all while keeping the front of the lens parallel to the blocking arm. Furthermore, the integrated lens clamp gently stabilizes the lens prior to blocking, eliminating any potential lens-shift.
Dimensions: 12.8" W x 20.1" D x 13.6" H

Weight: 46 lbs.

Power Supply: AC 115V, 50/60 Hz

Power Consumption: 1.5kVA max.