SE-9090 Supra Robotic Systems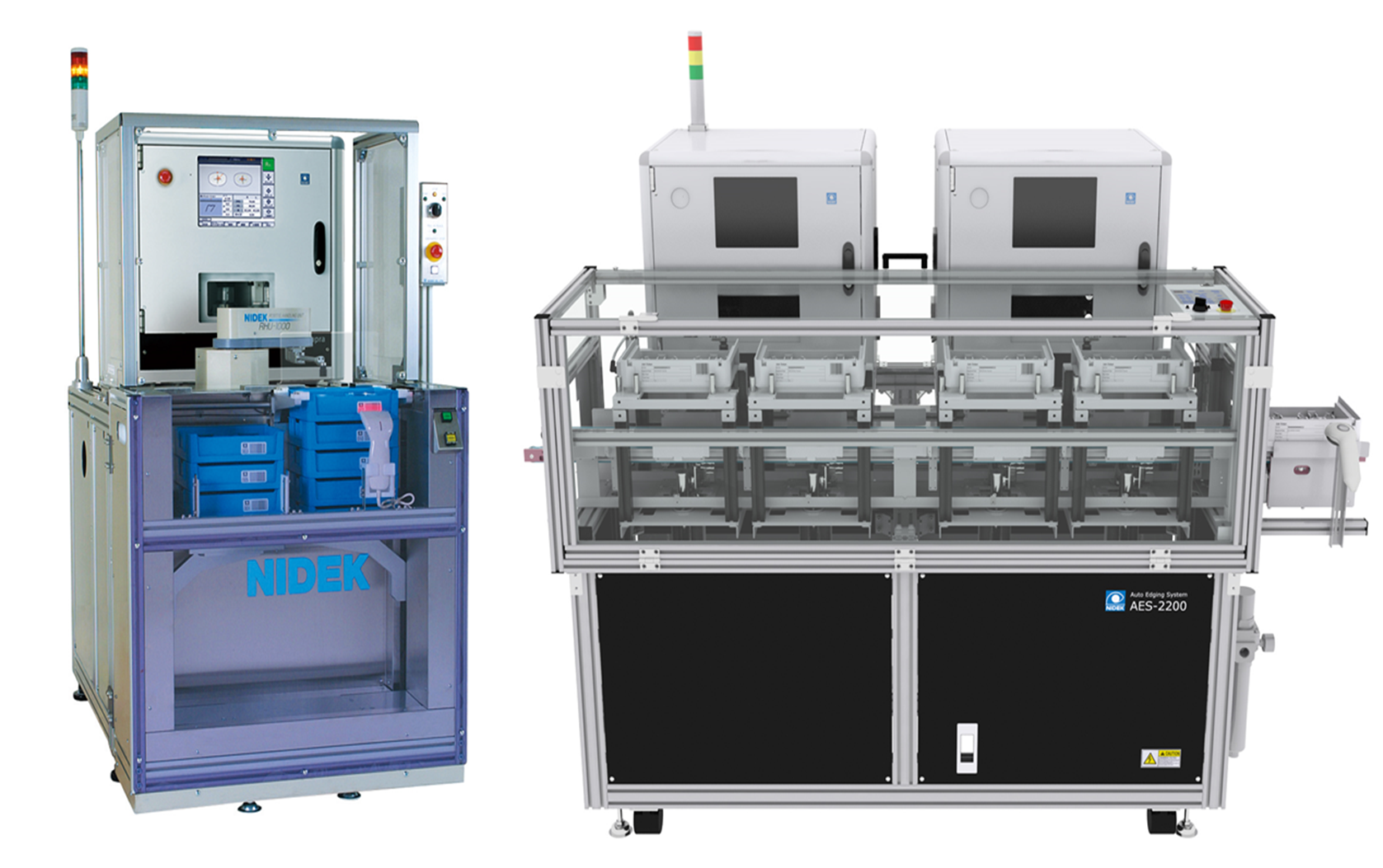 SE-9090 Supra "Single Unit" Robotic System: AES-1000
Great Adaptability
The AES-1000 system is available in two different robotic handling units: a stacker configuration or a conveyer belt configuration. The optimal combination of the SE-9090 Supra's proven technology with 3-D grooving, and robot automated lens handling, results in a reliable and efficient solution for lab business needs.
High Precision in Compact Unit
The AES-1000 system is available in two different robotic handling uniThe RHU Robotic Handling Unit offers automatic lens conveyance to assist automation of the SE-9090 Supra's lens processing in industrial labs.
Easy operation and maintenance
High base curve technology
High precision and lens finish quality
Small footprint
SE-9090 Supra "Two Unit" Robotic System: AES-2200
High Capability Edging
The AES-2200 features two "24/7" SE-9090 Supra industrial edgers, which offer in-chamber grooving and customizable shelf beveling capabilities, Additionally, the renowned high-base curve edging and custom beveling capabilities are incorporated into the edgers.
High-Speed Processing
The system utilizes the RHU-2200 robotic handling unit, a unique hybrid design combination of conveyer belt and dynamic tray-lifting mechanism that eliminates job "bottle necking" and allows four jobs to be in a continuous state of production at all times. Moreover, the intelligent synchronization of the system is capable of bypassing any potentially problematic job tray, while keeping the other edger unit operating at full efficiency. Lightweight "dual robotic arms" reduce lens transport time from tray to chuck by over fifty percent.
Space Saving
The AES-2200 can be run in multiple system series (up to four) providing the best jobs-per-square-foot ratio ever introduced. An average of 1,600 jobs in just 14 hours! For labs with looking to space-conscious floor designs, this compact unit is the ultimate solution.
AES-1000:
Dimensions:SE-9090 Express: 23.6" W x 20" D x 24" H
RHU-1000: 31.5" W x 34.4" D x 58" H

Weight: SE-9090 Express: 265 lbs.
RHU-1000: 309 lbs.
AES-2200:
Dimensions:80.2" W x 41.4" D x 47.5" H

Weight: 430 lbs.

Power Supply: AC 230V, 50/60 Hz

Power Consumption: 300VA, 5.3 kVA (including (2) SE-9090 Supras)