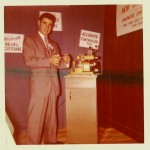 Our long-term involvement and commitment to the industry begins with the founder of our company, Joseph Santinelli. As a young man, Joe was intrigued by his Uncle Arthur's optical business. A. Lemay & Co developed and distributed lens finishing equipment. Joe started out learning about the business from the bottom up and has never stopped!
One of Joe's most notable contributions is his role in the development of the industry's first diamond bevel edger in 1955: the Diamaline Automatic Bevel Edger.

The Diamaline Automatic Bevel Edger was revolutionary as it introduced the first diamond bevel wheel, which rapidly replaced the ceramic bevel wheel. This facilitated the industry's conversion from glass to plastic lenses which ushered in a new era in lens finishing.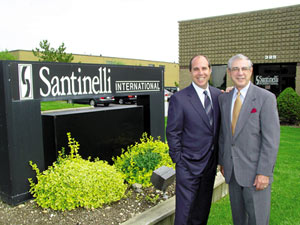 In 1973, Joe went out on his own and founded Santinelli International, Inc. Subsequently, along with his son, Gerard, he has built the company to be the leader in lens finishing equipment. While the reins have been passed on to Gerard who is now President and CEO, Joe is still actively involved in the company as Chairman of the Board.
Other family members have joined the company through the years but even if your name isn't Santinelli, we all pride ourselves on our personal dedication to each client.
After 50 years, we're now based in Jacksonville, Florida and we are now a division of Advancing Eyecare.
Currently comprised of Lombart Healthcare, Marco Healthcare, Enhanced Medical Services (EMS), Veatch Ophthalmic Instruments, Santinelli International, Sios, INNOVA Medical, and S4Optik, the combined scope of the organization has the broadest product portfolio, the most knowledgeable people, and the most reliable service in the industry.
Through our network of companies, we provide the best ophthalmic consulting services in the nation.
Advancing Eyecare — Our Name is Our Mission.