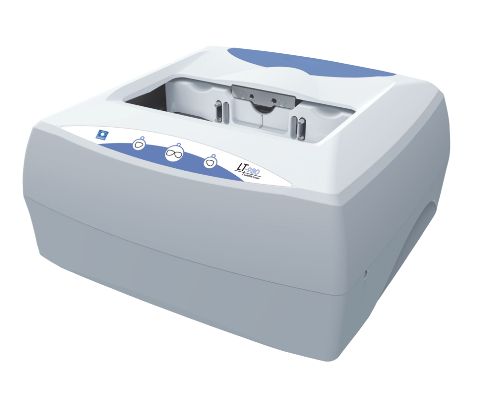 Santinelli International's revolutionary, new generation tracer, the XtremeD LT-980 (HC) Tracer, features high-curve frame trace capability with fully automatic operation.
The unit's unique design makes use of a variable fulcrum stylus which keeps the axis angle perpendicular to the frame at any height. The XtremeD LT-980's sophisticated software then calculates the effect that the curve imparts with respect to size, reproducing the best digitized frame data available.
Handling the Curves
The XtremeD LT-980 tracer utilizes 50% less stylus pressure to the frame than previous models and thereby eliminates the potential for distortion on even the thinnest, most flexible of frames. This is achieved by altering the angle approach of the stylus-to-frame whereby the pressure is dispersed over a larger area of the frame and at various angles, rather than merely the standard 90 degree angle.
Staying in Shape
The unit's newly designed stylus tip is constructed of durable Tungsten-carbide material, prolonging the lifetime of the stylus. Furthermore, the stylus tip is designed to reduce abrasion and friction allowing for a smoother, more accurate digitized trace of any frame time after time.
Performance
The three-axis assemblies, Horizontal, Vertical and Rotational, which control and guide the stylus operation, are 100% gear-driven. Therefore, the unit's stylus turret is void of obsolete belts, pulleys or bearings, protecting its functionality from harmful debris. In addition, upon closing, the upper and lower frame sliders interlock in a "tongue-and-groove" design, thereby protecting the mechanical core of the tracer. As a result, the LT-980's technology will provide years of trouble-free operation and optimum performance.
Dimensions: 12.2" W x 12.8" D x 8.7" H

Weight: 17.5 lbs.

Power Supply: AC 115V, 50/60 Hz

Power Consumption: 50 VA max.